As an owner of two mischievous little dachshunds, I can tell you with great confidence that keeping them clean is not a simple task! Sure, they're easy enough to pick up (if I can get a hold of them) and carry to the bathtub, but what a mess they make. They're not interested in being in that tub any more than I'm interested in trying to keep them there. When I heard that some people were installing dedicated dog showers in their homes, I immediately thought the idea was genius. What a great way to help your flip stick out in a crowded market!
If you're not a dog lover, then the idea of installing a doggie wash station in your home probably makes you raise an eyebrow. Hear me out.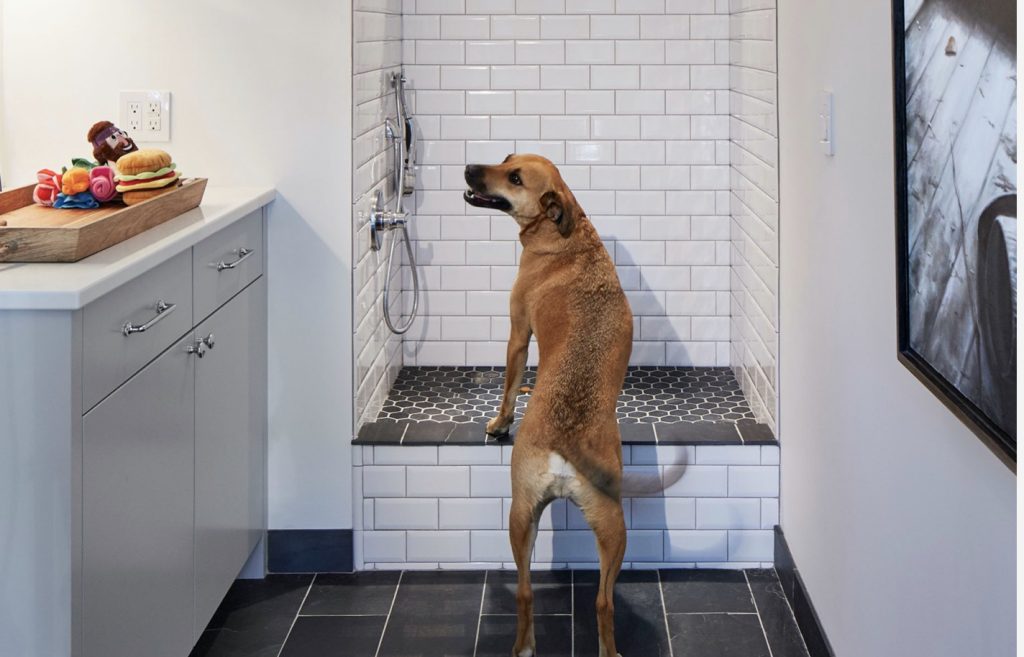 We've had doggie daycares forever. Dog spas are becoming increasingly popular. In-home dog showers are a natural extension of where we've already been going. They're trendy! And if you're thinking of investing in a luxury flip property, staying updated on the latest trends will always maximize profit and minimize your time on the market.
Why Is a Dog Shower Better Than a Human Shower?
Knowing how often to bathe your dog depends on their breed and general activity — you know your dog better than I do. But if they decide to roll around in the mud or dig into forgotten bags of garbage, they need a bath before they're allowed back on the couch.
There are over 63 million households with dogs in the United States. That's a lot of dog owners struggling to get their furry friends into the bathtub or chasing their pets around the backyard with a hose.
You can't ignore it, either. Dogs will naturally groom themselves to a point, but even the cleanliest of canines is going to need a helping hand from time to time.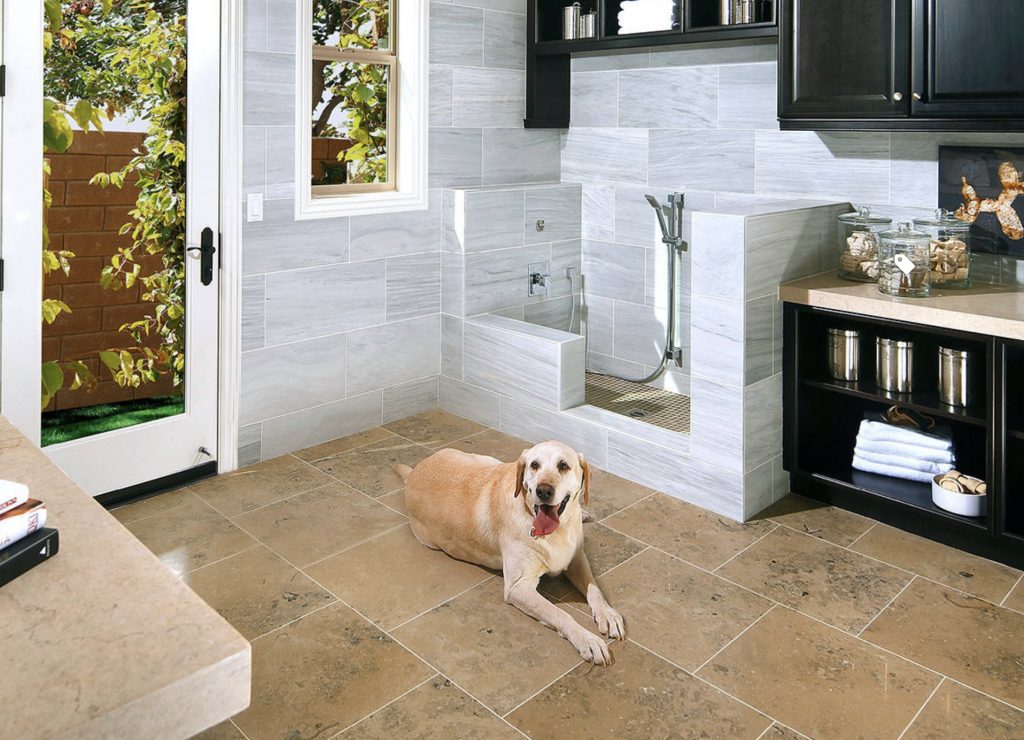 What better way to get your pooch sparkling clean than to have a dedicated spot in your home for that purpose? If you're looking at renovating your flip property, the laundry room and mudroom are great places to hook into existing plumbing and offer a nice out-of-the-way spot. A dog shower sure beats kneeling on the bathroom floor while man's best friend splashes water all over the walls — and you! Trust me, I know. I might as well be taking a bath at the same time because I end up just as wet with even more to clean.
A dedicated washing station is comfortable and practical. They generally have enough room for you to stand inside if needed. (Hmm…might be something to consider next time you're waiting for your teenager to get out of the bathroom because you need to shower and get to the office for a morning meeting. Oh, who am I kidding? Does anyone go to the office anymore in 2020?)
Build a Dog Shower That Will Make Fido Flip
How much does it cost to install a dog shower? Like anything else you want to buy, it depends. How big do you want to make it? What materials are you going to use? How fancy do you want it to be?
If you're looking to install a dog shower in a property you plan to flip, then consider it a surefire investment and don't skimp on the materials. You want your property to stand out from the rest of the market, and this upgrade will certainly gain your listing additional exposure.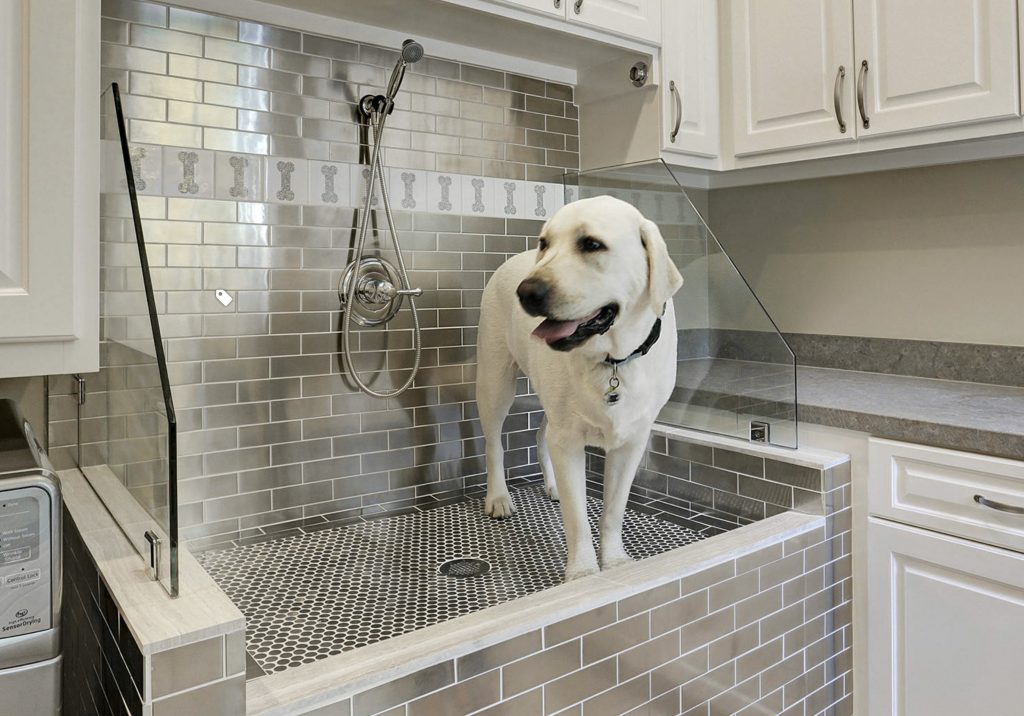 Expect to budget somewhere in the vicinity of $3,500, but don't worry; you are adding a real benefit to the property. Even if a potential buyer doesn't own a dog, this special shower can easily be used as a utility washing station for smelly sports gear or messy art projects. Don't underestimate the value that you're creating.
Pet Lovers Will Obsess Over a Dedicated Dog Shower
People love to pamper their pets, and better still, they love letting other people KNOW that they love to pamper their pets! When you're looking to add value to your luxury flip property and give it that little something extra to stand out from the crowd, a dog shower is a great way to appeal to a buyer who has no problem springing for Fido's extra creature comforts. You can be sure that the pics will appear on Instagram not long after the SOLD sign goes up!
What do you think? Is a pet shower a great idea, or would you rather invest your money elsewhere in the home? Leave a comment below with your thoughts!