Many people see other investors buying HOA Foreclosures at County Auction and have no idea what they are thinking or doing. Most assume they bought these as a mistake, but that assumption is only true some of the time. There is a way to make big profits, and we are going to let you in on this guarded secret.
The "auction buy to rent" or "buy an HOA foreclosure" play is still hot, hot, hot! The reason? Low investment with a great return if executed correctly.  Florida real estate investing is more competitive than most of the county's markets as people across the globe are competing for deals here. You need to get creative if you are going to come out ahead in this market!
Updated 10-03-2021
What is the HOA Foreclosure Play?
It's a simple idea that can be very profitable. You buy a foreclosure property at auction that has a homeowners association (HOA) as the plaintiff. Once you win the bidding, you rent out the property for as long as possible before it's foreclosed on by other parties that hold interest — primarily banks with mortgages. You find HOA foreclosures that you can hold on to for as long as possible and make rental income in the meantime.
The math is relatively straightforward. To keep things simple, we have rounded the numbers of the below basic hypothetical example.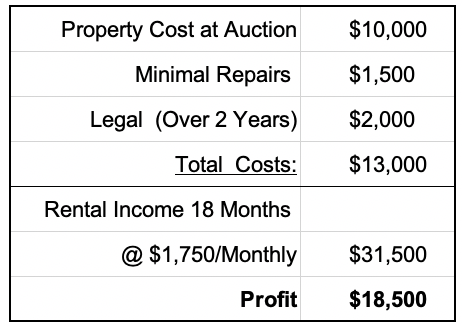 ---
Premium Members download HOA Foreclosure Play Spreadsheet Tool <
---
Different variations will bring less or more profit. We have purposely left off insurance, but you may choose (and we would certainly advise) to get a form of liability insurance. All other encumbrances such as future HOA fees and assessments, property taxes, and mortgage payments will not be paid. However, you may have some prior utility payments to take care of for obvious reasons.
It is not unusual for this whole process to make it to the three-year marker. During the housing meltdown of the Great Recession and as recent as five years ago, properties were taking five to six years to get through the courts to a foreclosure auction.
How identify a Good HOA Foreclosure Play?
---
Member's Only: Download "HOA Foreclosure Play E-Book" for detailed steps!
---
1. Find All of the HOA Foreclosures Coming Up for Auction
First, identify all of the upcoming HOA foreclosures so you can rule out any auction that has a bank as a plaintiff. Simply looking at the "Plaintiff" field on PropertyOnion.com's listings will tell you this, or you can search plaintiff by keywords like "Association" or "Assn" in our filters.
Another technique is using the "More Filters" tool on our site so the results show only final judgments of less than a certain amount. Typically, HOA final judgments are in the $3,000 to $35,000 range.
2. Find HOA Foreclosures Without a Mortgage Lis Pendens
You need to look for a recorded lis pendens, lien, or judgments from the mortgagee or mortgagees. In a perfect world, the mortgagee has not recorded a lis pendens yet. Even if they were to record one immediately, it would take most Florida counties eighteen months to two years (minimum) to bring a successful foreclosure action. With a proficient property attorney by your side, this timeline can be stretched even further. In this best-case scenario, you will not see any lis pendens from the bank when searching official records or looking at the PropertyOnion.com Title Search cover page.
3. Find HOA Foreclosures Without Final Judgments
If a lis pendens has been issued but no final judgment is recorded, you need to check the recorded date of the lis pendens. From there, it usually takes eight weeks for the issuer to record a final judgment. You can calculate this into your timeline to the foreclosure auction.
If a lien has been recorded but no judgment issued, you can count on 14 to 16 months from when the lien was recorded until the property will be foreclosed on at auction.
4. Run Numbers on Each Potential HOA Foreclosure Play
At each point in the process, you can choose a play depending on the information you have gathered. I cannot stress enough that you need a competent real estate attorney to help point, if not steer, you through the process. As a premium member of PropertyOnion.com, you have access to some of the best property attorneys in this arena. You can also download our HOA Foreclosure Deal Analyzer tool and play with the numbers to see if you have a profitable deal and plan your maximum bid.
Go Ahead and "Whack" the Mortgages
You may decide to take the mortgagee out, which means you'll pay off the mortgage and own the property free and clear.
As the title holder to the property deed, you can approach the mortgagee for a payoff statement once you get your certificate of title. Once received, you can decide whether you want to pay off the mortgage. If you have won a property at auction from an HOA foreclosure that has no recorded encumbrance documents at the county, then it's best not to approach the mortgagee just yet.
If the mortgagee hasn't filed a lis pendens, you don't want to alert them to the recent activity on their property (even though they would have been named as a defendant by the plaintiff on the complaint for judgment at the county court). Due to the vast amount of paperwork going back and forth at most mortgagees' offices and with no call to action required by the mortgagee, there is a good chance they will remain ignorant. There is no need to alter this position.
You can estimate a mortgage payoff by simply finding the original mortgage note or notes (if there is more than one mortgage) at the county recorder's office. Looking at the first page or two of the mortgage will show maturity date, and some will even include an amortization schedule toward the end of the document.
By putting the start date and current date into an online amortization calculator and applying an arbitrary percentage rate, you can make a rough estimate of the payoff amount.
The following example is purely theoretical and is just shown to prove this particular principle. However, it is based loosely on a deal carried out by one of our clients.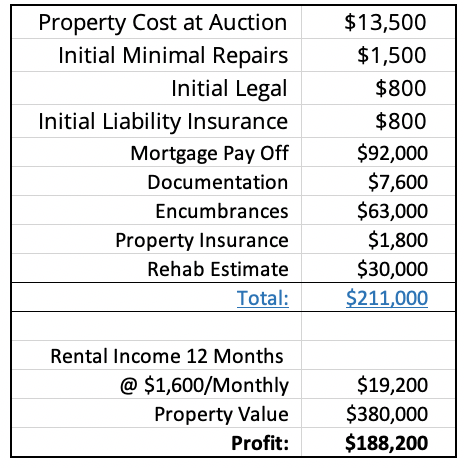 The key to the above is that the mortgage payoff was low enough to make the deal work. It also helped that this was an estate sale with no known relatives.
Our client is going to rent the property for a year, which will give her some funds for the rehab and allow her to accumulate other cash flow to put toward the deal. She is, however, pondering on whether to refinance through a conventional lending institution (as there is enough equity in the property) or take out a hard money loan (she could use this to buy another one or two HOA foreclosures at the Miami Dade County Foreclosure auction).
The Possibilities Are Endless
There is a veritable feast of possibilities when buying an HOA foreclosure, and we have not even discussed condo association foreclosures. Condo association foreclosures seem to be similar to HOA foreclosures but are completely different due to some added complexities. We will deal with this subject matter in a future article and tutorial.
For now, you have a good overview of how to make a nice profit by closing a few HOA foreclosure deals per year. What most ignore is now another source of deals.
---
Member's Only: Download "HOA Foreclosure Play E-Book" for detailed steps!
---
Update 10/21/2019: After readers reached out and asked about the legality of this investing strategy we had a legal opinion published called "Is Buying Association Foreclosures a Violation of F.S. § 697.08?"