As you know, I am an avid reader and always on the lookout for powerful and motivating real estate reads that can help me make powerful and insightful decisions when planning my real estate strategies. Remember, though, that all the knowledge you acquire from reading worthwhile material is only helpful if you use that knowledge to gain your own power when considering your real estate investing goals for 2022 and beyond.
Here are my top eight picks for you, eight being my favorite. I hope you get as much knowledge from them as I did. Remember to share this article on your social media platforms so your followers can also learn some great tips from my top eight picks. These are listed in no particular order!
#1: Investing in Real Estate with No (and Low) Money Down by Brandon Turner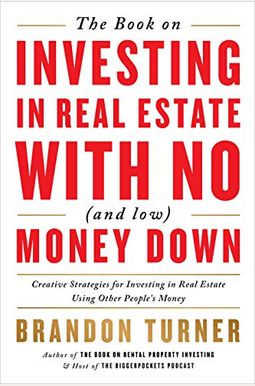 Brandon is the founder of Bigger Pockets, so he is a very savvy real estate investor! Investing in Real Estate with No (and Low) Money Down is a great book for newbie investors and investors who still have things to learn.
He dives into multiple financing methods that you can use to tap into current real estate markets, which is especially useful now as interest rates are on the upward trend. Brandon also gives numerous tips on how to get started in real estate and how to look for your first deal. He explains how creative investing requires a creative mind.
The book explores strategies for rentals, flipping, and wholesaling and steers you towards finding success no matter what niche you want to discover while building your own real estate empire. Brandon's style of writing is very relatable, and even as a seasoned investor I have found some very thought-provoking ideas in this book.
#2: Bidding to Buy: A Step-by-Step Guide to Real Estate Foreclosures by Aaron Amuchastegui and David Osborn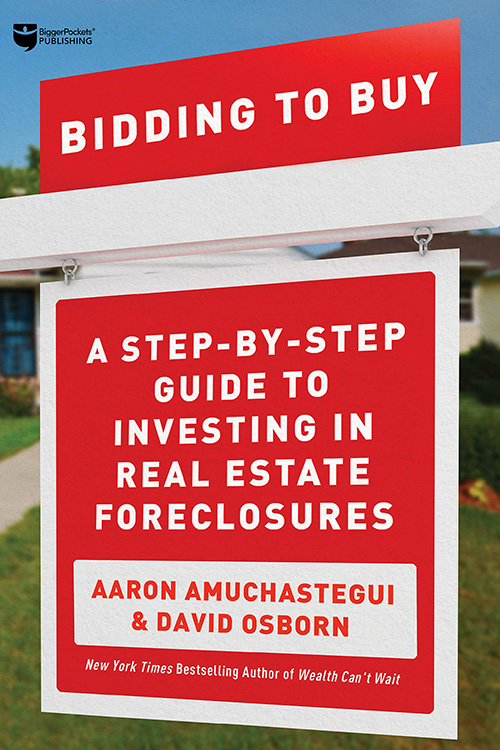 As investors, we know only too well that successfully buying foreclosures is not just a matter of luck. It takes a particular skill set and lots of due diligence, and it isn't for the faint-hearted!
This guide gives you a blueprint of the foreclosure process. It honed my skills in competing with other investors in the foreclosure process and helped me to navigate some potential risks and pitfalls of bidding at Florida online live auctions.
The book drills down on essential steps to take before bidding on a foreclosure property, such as conducting title searches (available on PropertyOnion.com) and developing an eye for any red flags that may come up during the foreclosure process. If you use the knowledge powerfully, it will help you maximize your investment returns.
#3: The Only Woman in the Room: Knowledge and Inspiration from 20 Women Real Estate Investors by Ashley L. Wilson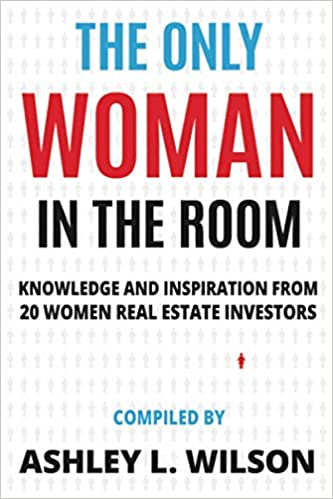 Who doesn't love to read inspirational stories from other real estate investors, regardless of gender? I read these stories from 20 incredible women about how they were able to achieve financial freedom through real estate investing.
You will discover some great nuggets from these ladies, who discuss that they were sometimes not taken seriously in an oftentimes male-dominated marketplace. They were able to overcome many obstacles that they faced, including transitioning from being full-time moms to real estate entrepreneurs.
The stories also share how they were able to successfully deal with difficult general contractors who did not take them seriously in the beginning. This was a great read and very motivational for anyone interested in real estate investing.
#4: Long-Distance Real Estate Investing: How to Buy, Rehab, and Manage Out-of-State Rental Properties by David Greene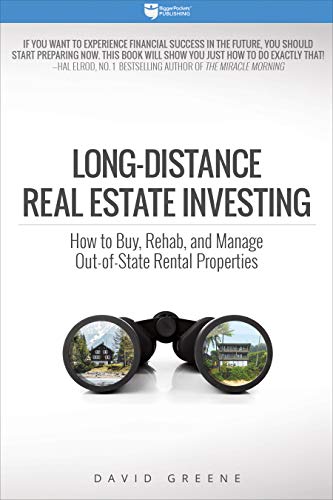 I have been a long-distance real estate investor in the past, and it can be challenging. This book provided clarity and strategies that were very helpful and resourceful for me personally!
Long-distance investing has become way less challenging due to the technologies that we now have in place, including Zoom, Skype, WhatsApp, and a plethora of other online communication platforms. David is a former police officer who became a multi-million-dollar real estate investor. He shows you how to buy, flip, and manage out-of-state properties with ease and shares every trick, tip, and process that he has put in place so you can avoid making the same mistakes that he did.
David's book helped my learning curve for investing out of state. One of the key takeaways for me is that hiring a great property manager is your number one key to success!
#5: Tax Planning for Women Entrepreneurs by Lisa Corbitt, CPA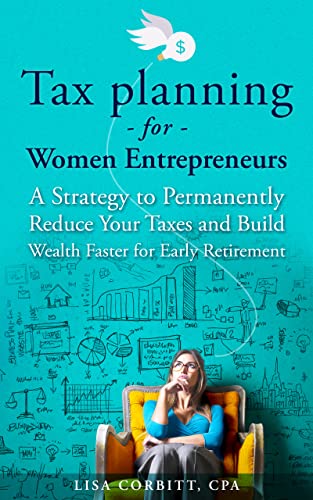 Forget that the book's title says for women entrepreneurs — this is for all you real estate investors who need to get your house in order (excuse the pun!) when it comes to tax planning and your real estate portfolio.
Lisa Corbitt is a certified CPA, and her book is chock full of up-to-date (published January 2022) information. You can use it to learn about your tax breaks and break your perceived fear of taxes that usually results from procrastination and misunderstanding.
We all know that tax season can be fraught with anxiety. We all want to make the most of tax opportunities so that we can minimize our expenses and take advantage of what's available to you as a real estate investor. There are hundreds of deductions and credits that could potentially save you thousands of dollars.
This book made it clear what steps you can take and the opportunities that Uncle Sam gives you through completely legal means. It can take you confidently through the process of saving for the future and planning your tax strategies for your investing business in advance.
#6: What Every Real Estate Investor Needs to Know About Cash Flow and 36 Other Key Financial Measures by Frank Gallinelli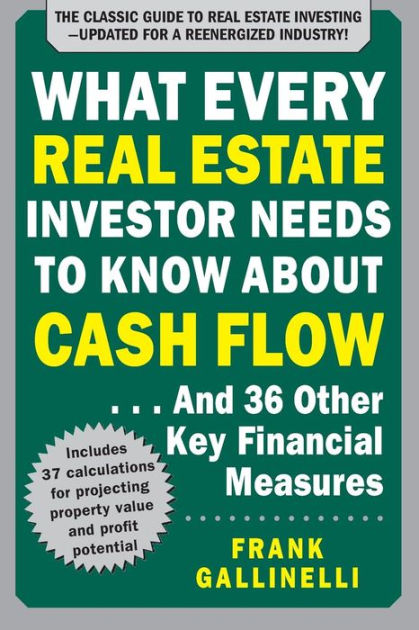 Although this is a slightly older book, it is still invaluable and has helped me crunch numbers like a pro! Who likes math? Not me, but you must have an understanding of your numbers and a good CPA, if possible and affordable, to become a successful real estate investor.
Frank touches on key critical aspects, including discounted cash flow, net present value, capitalization rate, cash-on-cash return, net operating income (NOI), internal rate of return (IRR), and numerous other key financial terms that are a must for being on top of your game in the real estate industry. This book removes some of the guesswork from investing in real estate by teaching you to crunch your numbers so you can confidently judge a property's value.
I will add that whether you are just a newbie or a seasoned professional, this book is a must-have.
#7: The Book on Estimating Rehab Costs by J. Scott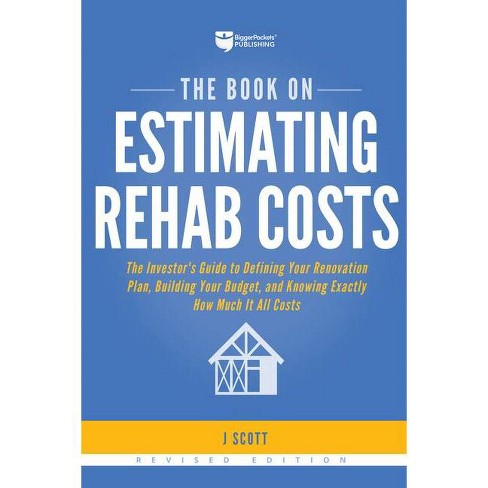 To make any investment a winner, whether it be a wholesale deal, flip, or rental, you must know your rehab costs. You must determine how to accurately estimate all the costs that you are likely to face during a renovation, and J. Scott nailed it for me.
His professional framework and methodology gave me guidelines for evaluating my renovation costs. It is a REAL minefield out there when trying to identify your potential scope of work, hire a good trusted general contractor, and then stay on top of your rehab project.
You want to decide which upgrade options offer the most bang for your buck, recognize big problems like mold and termites and how to quickly fix them, and assign accurate prices to every rehab task. J. Scott's invaluable guide saved me time, money, and my sanity!
#8: Becoming Bulletproof: Life Lessons from a Secret Service Agent by Evy Poumpouras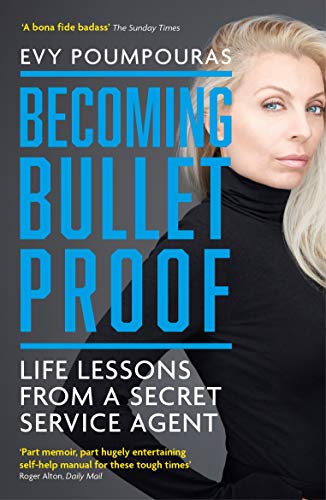 I humbly apologize for the title of this book not being politically correct at the moment, but this is one of the best books I have read in a very long time. Evy, who worked for top-secret government agencies, shares how to transform yourself into a stronger, more confident, and more powerful person.
She explains how to overcome our everyday fears, who to trust and not to trust, how to influence the outcomes of situations, how to have difficult conversations, and how to prepare for the unexpected. She shares secrets on deciphering such things as paralinguistics and body language, and she helps you learn how to home in on your natural instincts when meeting people for the first time.
As a real estate investor, you meet many people from all walks of life who may possibly be keys to your real estate success. This book taught me some great tips and kept me totally engaged throughout! Evy was a secret service agent to three former presidents and is one of only five women to receive the Medal of Valor, so she knows her stuff!
Pick Up a Book and Get Reading!
As a seasoned investor, it is always a great idea to update yourself on new ideas that can improve your professional skill set and sharpen your real estate investing strategies. I want to pass on the knowledge that I have learned from these books.
Although I don't have a crystal ball to predict future trends, they say that the past is a predictor of the future. You may not agree with all the information that you will learn from reading these books, but you will certainly gain some insightful knowledge that may have eluded you in the past. Happy investing!