Throughout this fix and flip journey you've taken special care to prepare the home in way that appeals to the average home buyer in your area. You want each and every person viewing your property online or walking through the front door to feel as though they could live there! You want them to be able to visualize themselves in this space. Simply put, you want them to feel at home. The problem with a rehabbed home is that it's empty, and empty homes do not sell as quickly as homes that showcase furnishings. No matter how beautiful your newly redesigned fix and flip home is, if it's empty it's going to feel cold and unwelcoming. Potential buyers will have more difficulty picturing themselves living in this space. That's where a home staging company comes in.
A professional staging company will come into your home and set up temporary furniture and décor to make it feel warm and inviting. Potential buyers will see each staged area properly laid out in a way that makes sense to them. There will be a sofa in the living room, a table and chairs in the dining room, potted plants placed strategically throughout the home and artwork on the walls.
It isn't necessary to stage every room in the home. By focusing on the main areas like the entry way, kitchen, dining area, and master bedroom, you can cut your costs significantly while still offering potential buyers a familiar home-like experience.
Another option to reduce your costs is to hire an online staging company to create staged photos that are then used in your online listing. You provide the company with high quality photos of your space, and they will produce virtually-staged images that are as life-like as any you could have taken if the room was physically staged.
To recap, there are significant benefits of staging your property to sell:
Easy for potential buyers to visualize themselves living there.
Creates an emotional connection with home buyers.
Can increase the home's selling price.
Can shorten the length of time that a home stays on the market.
So, when it comes to deciding whether or not to stage your property, with all of these great "pros" why is there even a question? It usually comes down to money, and whether or not you view this as a necessary expense. Physical staging can be pricey, with an initial setup fee, followed by a monthly "rental" fee for the items being staged. It's also not uncommon for staging companies to require a minimum commitment (say, 3 months) even if your house sells more quickly. Virtual staging costs less but is only useful for the online property listing photos.
According to Realtor.com the average cost to stage a home is generally $300 to $600 for the initial consultation, plus $500 to $600 per month per room. To put that into perspective, a 2,000 square-foot home would cost between $2,000 and $2,400 per month. On the other hand, using the services of a virtual staging company will cost anywhere between $32 and $59 per photo. Forbes.com claims that a staged home will sell for 17% more on average than a non-staged home.
With those numbers in mind, here is a very simple rough breakdown from our last project:
Numbers Breakdown on Fix & Flip Not Staged: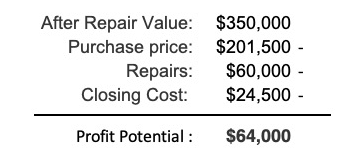 Numbers Breakdown on Fix & Flip That is Staged: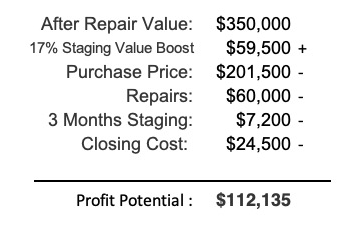 Now these numbers are pretty optimistic of course. Will a property always sell at a 17% premium if it's staged? Absolutely not! If staged properly selling at a premium over other properties in a market and quicker is almost assured. In some markets having a staged property will be deciding factor if the property will sell at all. In our experience higher end properties should always be staged. Rental properties being sold to other investors or landlords usually do not need staged but can still benefit from it.
So, should you stage your rehabbed property when it comes time to sell? Despite the additional expense, I feel the answer is a resounding "yes" A properly staged rehabbed home will welcome any potential buyer as soon as they see it online or step through the front door. It's an investment in the property and one that you should seriously consider when putting your rehabbed property on the market. You can usually sell a property fast and for a premium with a good staging.
When buying at the Florida Foreclosure Auction, you quickly end up with many different levels of flips. Knowing how to maximize you profit on each level is the key to success and home staging can help you.
I hope you found this article helpful. Do you have more questions about staging your rehabbed property? Please add your questions in the comment section below.