Multifamily real estate investing is a unique niche within real estate investing. With multifamily real estate, the driving factor behind the property's value is the net operating income (NOI) that it is producing. By manipulating factors that allow you to increase the NOI of the property, you can force appreciation of the property.
A few simple things you can do to force appreciation in multifamily investments include updating units and adding amenities or luxuries that you can charge higher rents for, reducing expenses across the property (starting with big-ticket items), and finding new and inventive ways to provide services that residents are willing to pay for.
What Justifies Increased Rents?
In multifamily real estate, the overarching number that you will always seek to grow is the net operating income. That number can grow through two main methods: increasing the property's revenue or decreasing the property's expenses.
The most obvious route and first strategy for most investors is to increase rents. However, it is not as simple as just listing units for $150 more per month after tenants move out and hoping new renters who are willing to pay the higher rate come along. That strategy has been the downfall of many unprepared multifamily investors.
Add Value to Your Property
The proper and most effective way to go about increasing the rent rate and gross revenue of a property is to provide value to the residents and prospective residents. Putting serious thought into what residents value the most will lead successful multifamily property owners and operators to the conclusion that kitchens and bathrooms are what cause most residents to choose one property over another.
Spend money on a property to renovate kitchens with brand-new granite countertops, vinyl plank flooring (throughout the whole apartment), stainless steel appliances, a modern gas range, new cabinets (or refinish the old ones), and modern brushed nickel hardware on all cabinet doors and drawer pulls. You'll attract residents willing to pay a premium to have the nicest kitchen that they can find in their price range.
The next spot in multifamily units that is important to focus on for renovations is the bathrooms. Here are a few things you can do to increase the value of these rooms:
Update the floors
Install granite countertops
Put in a brand-new single-piece shower and bathtub combination
Install high-efficiency commodes with extended bowls for added comfort, new vanities, sink fixtures, light fixtures, and mirrors
Install exhaust vent fans if they are not already present in order to pull out any excess humidity and moisture — this will also help to preserve your new updates for longer
Reduce Your Operating Expenses
The second way to manipulate the net operating income of a property is to reduce the expenses incurred in the operation of the property. This includes utilities, insurance, maintenance and repairs, property taxes, management fees, technology fees, leasing commissions, advertising and marketing, and even the costs incurred by having cost segregation studies performed and hiring utility efficiency experts to analyze your property to find more cost-saving opportunities.
Two big expenses that you can focus on right off the bat are electricity and water consumption. More specifically, wasteful consumption of both of these things can be reduced through a few simple modifications.
When it comes to cutting electricity expenses, first off be sure that you are not paying for the electricity in each unit yourself. By passing utility expenses to the residents, you will immediately see cost savings as the residents will be more cognizant of electricity use when they are paying for it.
Begin by either implementing a ratio utility billing system (RUBS) yourself or outsource it, or have the property individually metered and residents billed for their own utility usage. This will help cut down on the wasteful electricity habits that are common in all bills paid, such as forgetting to turn lights off and leaving televisions, appliances, and other electricity-consuming devices on at all hours. This is a big one that will have a noticeable effect on your bottom line right away.
If you want to take it a step further, install high-efficiency LED bulbs in all common spaces where you are covering the costs of electricity use and encourage your tenants to do the same in their units (or replace them during unit turns) to reduce overall property electricity usage.
Next up is water usage and waste. This silent killer adds up and can sometimes make or break a property. With multifamily properties, you never know whether or not a resident will let you know right away if they have a leaky faucet, toilet, or shower head. Implementing water-saving and waste-prevention devices on toilets, sinks, and showers helps you catch leaks before they get out of hand.
Even things as simple and easy to install as rain sensors on landscaping irrigation systems to prevent watering during or after rain can add up to thousands of dollars in savings that translate to an increase in your multifamily property's value.
What Counts as Other Income?
What are some other ways that you can force appreciation in your multifamily investment property?
Providing services or luxuries can help you generate income. Try implementing things like paid parking (covered, underground, gated, extra spots, etc.), vending machines, and other services such as laundry or dry cleaning. These can add up quickly, providing a boost to the net operating income and forcing appreciation of the property.
How to Find Multifamily Properties Up for Auction
Looking to find a way to take your newfound skills in forcing appreciation to the next level? Utilize PropertyOnion.com's auction calendar to find multifamily properties going up for auction at upcoming tax deed auctions and county foreclosure auctions and take advantage of the steep discounts to market prices.
Although occurring less often than other types of properties, multifamily properties do show up on the auction block either through foreclosure cases or tax deed applications. Illustrated below is a quick way to find all the multifamily properties being auctioned in your county.
If you are logged in as a premium member, it will show you all the upcoming multifamily properties going to auction. If you are not a premium member, you will see previous multifamily property foreclosures and their sales data.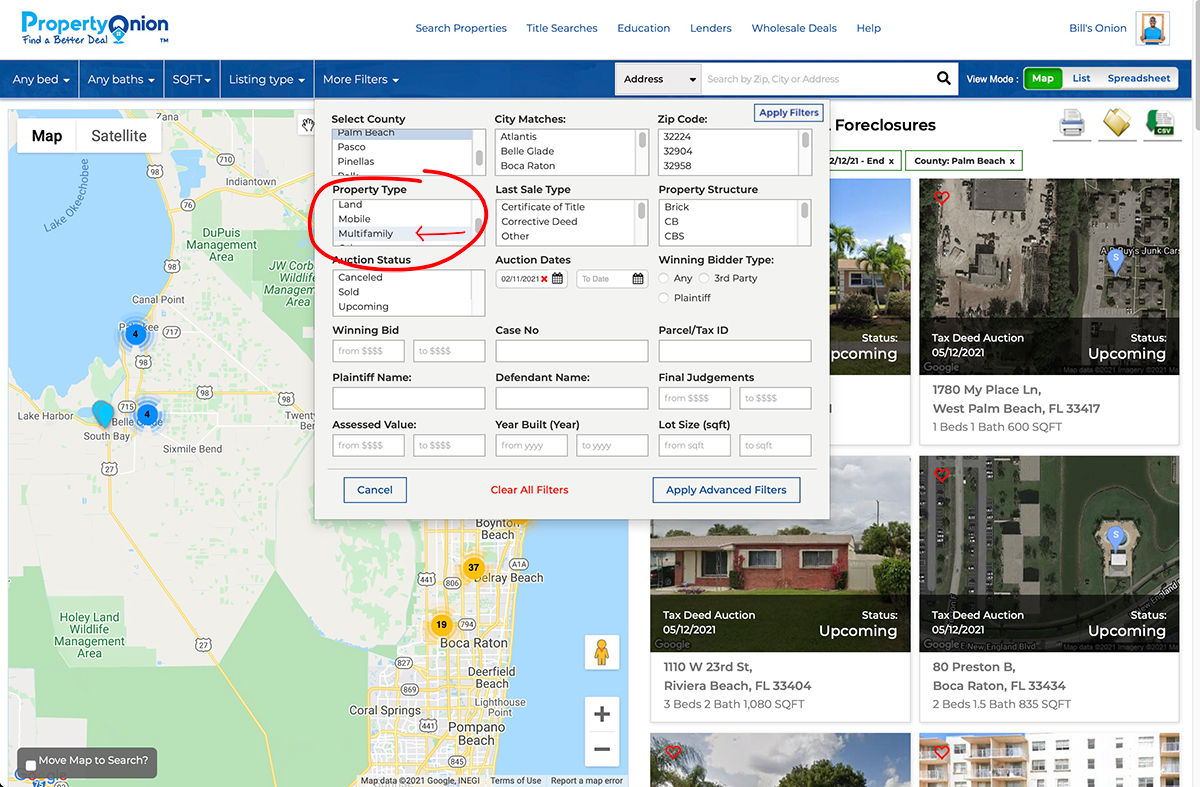 Simply click on the "Search Properties" navigation link and then click on the "More Filters" selector. From within the "More Filters" box, scroll through the choices, select "Multifamily," and click the "Apply Filters" button. You will see a list of the multifamily properties going to auction in your home county.
If You Play Your Cards Right, Multifamily Investments Can Be Highly Profitable
Most investors are hesitant to bid on multifamily properties at auction due to the believed complexity surrounding their title and operations. For the prepared investor, this is an opportunity to acquire a multifamily property at far below market value and implement your skills to take the amount of appreciation that can be forced to a whole new level. By purchasing at such a low price point, the amount of equity that can be built (and rapidly, to boot) makes this a powerful investing strategy you should add to your toolbelt.
When it is time to exit the investment, investors are able to not only pull their invested capital out but also pull out substantial equity gained through the forced appreciation, meaning these investors receive a healthy return on their investment.