A creative real estate agent has found a way to really drum up free marketing using something hiding in her closets:  Skeletons.  Way back in 2013 Real estate agent Donna Kerr set up a "Haunted Garden"  with elaborately skeleton scenes placed all over her yard for Halloween.  This turned out to be a huge attraction in her neighborhood and it created a legal feud with her local Montgomery County commissioners. 
The Haunted Garden was so popular and the story of the big mean county trying to remove it eventually went viral. Kerr went on to appear on Good Morning America to try and create support for her Ghoulish display.  She lost her battle, tossed all the skeletons back in her closet, and forgot about the entire ordeal, until now.
This year a friend told Kerr about the 12-foot tall skeletons they were selling at home depot.  This ignited Kerr's spooky imagination and her rebellious side again. "With Covid, everything is just so awful," says Kerr.  "I just thought, this will be a breath of fresh air. This will be so much fun."  She ordered a bunch of the 12-foot tall skeletons to go with her old ones and the results were nothing short of Spooktacular!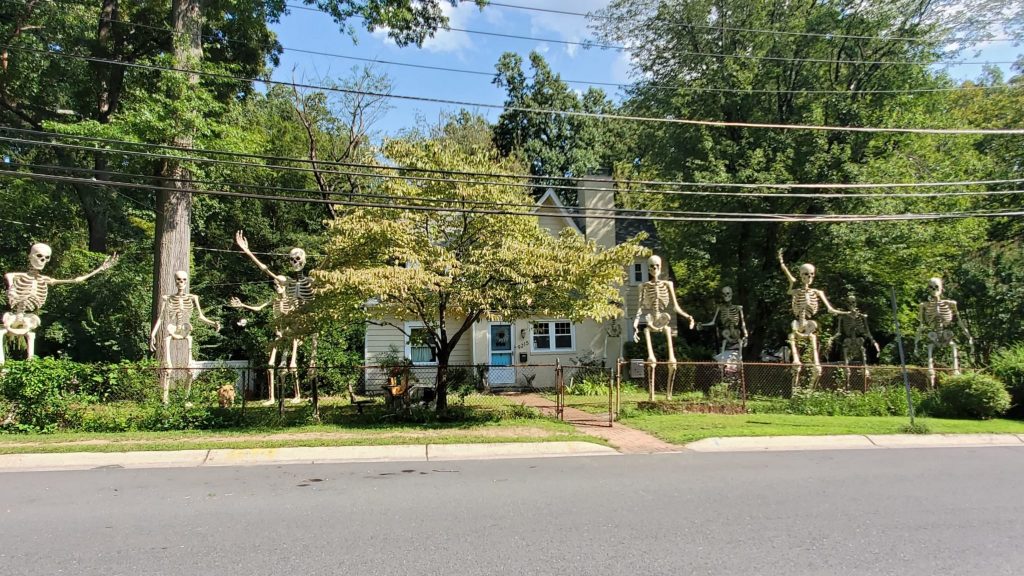 "Everybody that walks by, they just love them," says Kerr. "People stop and take pictures. It just brings a smile to everybody's face."
This gave Kerr a great business idea.  Use people's fascination with the macabre skeleton scenes to sell some of her stale listings.   The results have been nothing short of amazing and once again her skeletons have gone viral.
This time the viral success is helping to sell her real estate!  We think you will agree she has a talent for this! For more of Donna Kerr's "Skellies" you can visit her Instagram page.