The Monthly Peel
Interesting stories, tips & tricks for real estate investors.

Make Big Profits with this HOA Foreclosure Play…
The "Auction Buy to Rent" or buy an HOA Foreclosure play is still hot, hot, hot! The reason, low investment and a great return if executed correctly. Some have over 30% returns or more. If you get our weekly stats on sales at auction, you have undoubtedly seen the people buying HOA foreclosures at the county auction and kind of chuckle thinking the investors are dumb or it was a mistake. But some investors are making a KILLING buying up Association foreclosures, renting them out using this secret formula. This was a previously well kept secret until now, and we reveal this previously misunderstood strategy here for our readers.
SFL Real Estate Investor, & Senate Candidate Steals $1,600,000…
… South Florida Real Estate Investor Anis Blemur & former Senate State candidate is languishing in jail after being convicted of stealing money from predominantly the South Florida Haitian Community. He had plead guilty in April of this year to wire fraud, money laundering and aggravated identity theft. He even stole from a Miami Mayor & an international Diplomat! A word of caution and a tale of despair while this piece of junk rots in jail. read more
Burned Down Auction House Rises from Ashes & Sells Again…
…. Last month we reported to you one of our members accidentally paid $249,000 for a burned auction property, well guess what? It got bought again!! This time for $206,100 on Thursday 5th of September at Palm Beach County Auction. This time we dug a bit deeper and we are seeing some unbelievable funny business here folks! PropertyOnion.com obtained court papers today where the original property owner Gregory Landers filed court papers claiming that the new buyers are a fake company setup by the mortgagee's attorney to allow both the Attorney's and the Mortgagees to collect more money on fees. read full update here
Buying Title Searches AFTER the Auction is Won…
… is the worst possible way to invest in the foreclosure auction! This week we had not one, but three new title search customers receive a title search report showing they purchased a junior lien at auction, and they had lost it all to a large senior lien that still encumbered the property and would soon foreclose. Unfortunately 2 of the 3 new investors already paid the balance of their bids, losing $14,000 in one case and $36,000 in another. A simple $50 title search from us or any other reputable research service could have saved them time and a pile of money, ALWAYS do a title search before you bid people! If you buy investment properties, always get a title search first!
Florida Real Estate Escaped Hurricane Dorian, or Did it…
.. Though Hurricane Dorian did not make landfall in Florida, it certainly highlighted concerns for real estate buyers and brokers, who witnessed the catastrophic damage and heartache that it caused in the islands in the Northern Bahamas. Brokers in Florida say the hurricane won't have a lasting effect on buyers and sellers minds, it does lend to giving some buyers and sellers pause for thought with what will most likely be a measurable dip in the sales radar for the month of September. read full report here
Investor Walks in on a 5 Foot Alligator in Foreclosure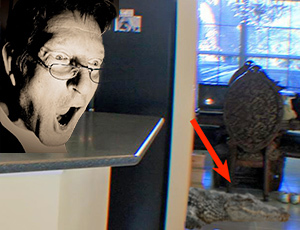 Our long-time member Brian Treaton in Port St John had been looking as usual in his home county auction in Brevard for his niche properties:
"I went round the back of the vacant property & found the side yard door open. The property was in really good condition except for some unusual 'droppings' on the floor, and as I approached the kitchen island bar I saw the business end of a 5' alligator that seemed to be asleep!" Immediately after that…. Shocking first hand account here
---

So happy you read our email, how'd you like it?

If there's anything you liked or didn't like about this email, please leave comments below and let us know! We would love to get some ideas of what you might be interested in reading about in our next issue. If we pick your topic we will give you a $25 Amazon.com gift card as a thank you for the idea!

Sincerely,
-Rooty
Official PropertyOnion.com Mascot