We all know that inflation is running rampant at the moment, with the annual inflation rate accelerating to 9.1% in June of 2022. This is the highest since November of 1981 and above market forecasts of 8.8%. Yes, energy prices rose 41.6% — the highest since April 1980 — which was boosted by a gasoline price of 59.9%!
These are eye-watering statistics for us ordinary folk. Food costs surged to 10.4%, the highest since February 1981. Even my dusty old crystal ball couldn't have predicted these surges.
Inflation Is High in Popular Locations
The most popular destinations for people relocating have the highest inflation rates in the U.S., partly because they are attracting so many new residents. Due to supply and demand, they are experiencing sharp home price increases.
What do these figures mean to investors? There are four U.S. metros that are experiencing double-digit inflation in the second quarter of 2022: Phoenix, Atlanta, Tampa, and Miami. All four metro cities were among the most popular migration destinations for Americans, according to a new Redfin.com report. As always, Florida has two of the four cities that top the list of most sought-after places to relocate to.
In the study, Phoenix saw prices of goods and services rise by 11.3% year over year in the second quarter, followed by Atlanta with the second highest inflation rate of 10.9%. Tampa clocked in at 10.6% and was the number two city for migration. Miami was the most popular migration destination with the fourth highest inflation rate of 10%.
The cities that homebuyers are leaving tend to have lower inflation rates. San Francisco tops the list of migrators, but prices there rose at a more modest 5.6%, the lowest inflation rate of the metros. New York had the second lowest inflation rate at 5.9% and is number three on the list of people leaving. This is followed by Los Angeles at 8%, Washington D.C. at 7.1%, and Seattle at 8.9%. These are the top five metros that people are deserting in droves to come to other major hotspot cities.
"A place's popularity has a big impact on how much its local prices go up," said Redfin Deputy Chief Economist Taylor Marr. "An influx of people moving into a place like Phoenix or Tampa pushes up demand for everything from housing to food to fuel, which pushes up prices in all those areas and ultimately contributes to overall inflation.
"That means it's getting more difficult for locals to afford daily expenses, especially when you consider that wages aren't rising as quickly. In Phoenix, for instance, wages are up about 6% from a year ago but inflation is up more than 11%. Asking rents are up 24%. Homeowners are in a better position than renters because they benefit from rising home values."
Inflation may ultimately have a harsher effect on long-term residents of hot real estate metros. Investors may not only be priced out of the housing market once you factor in wages that can't keep up but are also forced to pay for daily expense items. There's also the looming crisis of higher mortgage interest rates, which has an obvious effect on the real estate market.
Relocating Homebuyers Are at an All-Time High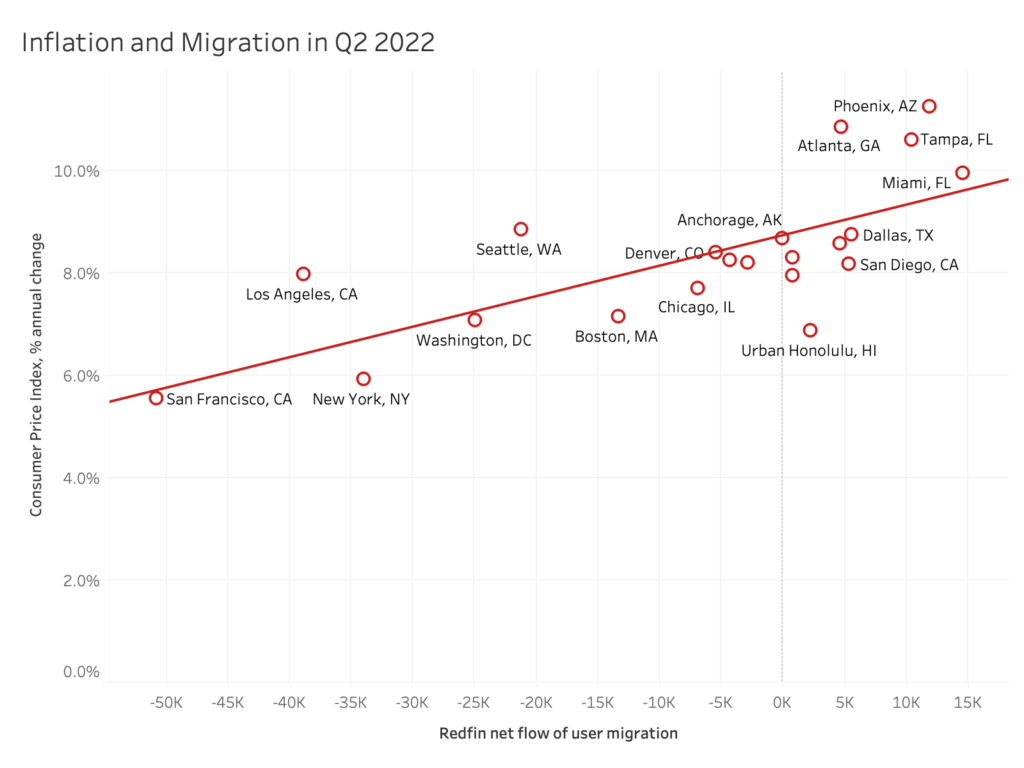 The number of relocating homebuyers is at a record high due to many more people working remotely, especially since the pandemic began. They have moved from expensive coastal job centers to comparatively affordable Sun Belt metros, even though their popularity made several of these areas less affordable than before.
For example, Phoenix home prices have risen more than 60% through the pandemic, reaching a median price of $486,000 in May 2022.
According to the U.S. News report for 2022 of the 25 Fastest Growing Places in the U.S., Florida takes an almighty 11 of these 25 spots. Florida cities took the following places:
#2: Lakeland
#3: Sarasota
#4: Fort Myers
#6: Ocala
#7: Port St. Lucie
#8: Daytona Beach
#9: Naples
#12: Melbourne
#14: Jacksonville
#15: Tampa
#25: Orlando
What Can We Expect in the Future?
As investors, we must constantly be aware of all trends that affect real estate market prices as we decide what our strategies will be moving forward.
According to the latest July 2022 news release from Fannie Mae, expectations for 2022 and 2023 were downgraded in July due to the softening of consumer spending and a downward revision to business inventory investment data. The Economic and Strategic Research Group (ESR) now expects a recession to begin in the first half of 2023 due to the aggressive monetary policy response required of the Federal Reserve to bring down inflation from its current decade-high levels.
The ESR Group revised its forecast for total home sales growth in 2022 to a decline of 15.6% but revised upwards its home price appreciation forecast to 16% year-over-year growth in 2022. It continues to anticipate a strong deceleration in home price growth moving forward due to the delayed effects of higher mortgage rates and the slowing economy weighing on purchase demand.
"The economy slowed significantly, though unevenly, in the first half of 2022 on the expectation that the Fed will aggressively raise interest rates," said Doug Duncan, Fannie Mae Senior Vice President and Chief Economist.
"With inflation running well above the target rate, the market's expectation that further, substantial monetary tightening is needed has driven interest rates even higher, and interest rate-sensitive sectors, including housing, are slowing in response. Homes listed for sale are increasingly seeing asking-price reductions, and both construction and home sales — both existing and new — are slowing."
Use Inflation to Your Advantage
As investors, our strategies may have to change from a straight flip to sell to creating more "doors" for potential renters. Especially in college towns and migration hotspots that people are flocking to, this could be the perfect opportunity to capitalize on a changing real estate landscape.
You don't need your crystal ball to decide which Florida markets are the best to research and invest in — just use the facts. Happy hunting!