We've all heard the stories of the supposedly "Haunted Houses" filled with evil spirits, clanking dinnerware, moving doors and chairs. We skim the story, get a quick chuckle and move on with our day. This one is different, very different as there is a real estate deal underneath all the ghostly tales.
Let's backtrack a little to where this tale began: In March, realtor Sylvia McLainshared a property to Facebook that she was looking to get off her hands. Her company, McClain Development, had bought out the land and the home and planned to build on it. Instead of demolishing the property, "we would love to see someone take it to be moved and restored," she writes, noting that the house was free, albeit, whoever claimed it would have to handle moving and restoration. "In an effort to save the history of the home we are offering it to anyone who would be interested in moving it to another location for restoration," she explains.
Let me digress a bit to when this all started: Back in March Sylvia McLain who is a realtor posted a property to her Facebook page that she was trying to dump. Her investment firm McClain Development had invested in a piece of land and there just happened to be this old house on it that they planned on demoing. We believe at this point Sylvia had a great idea to save her a few coins. "In an effort to save the history of the home we are offering it to anyone who would be interested in moving it to another location for restoration," she explains.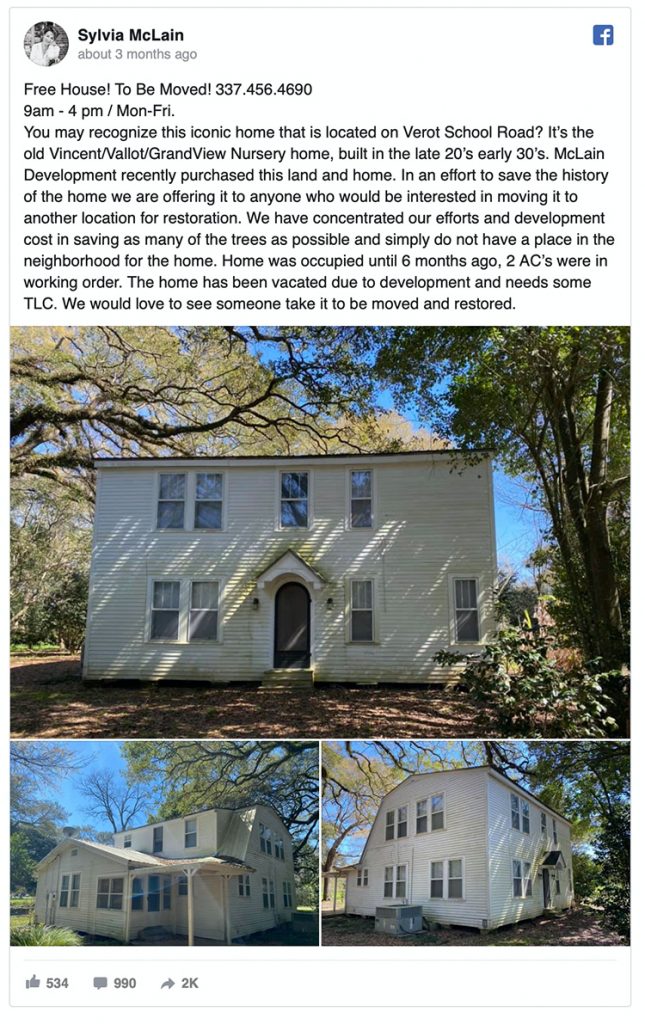 Little did she know (or did she?) that this house was known around the parts as being "Extremely Haunted" and of course the Facebook users quickly pointed this out. Hence the post soon went viral and she was being contacted by newspapers and ghost hunters from around the world. Just one problem, no one took the house.
In order to live up to the "Free Haunted House" deal, you would need to remove the property from Mclain's juicy piece of land. Moving the house would cost $40,000 – $80,000 depending on how difficult the moving job was once the crew got started. Is a haunted dilapidated house worth that much? Up until then, the resounding answer was "nope" but that soon changed.
Now the various "Ghost Hunters" have visited the haunted house and have begun to report their findings. The findings all seem to (of course) confirm how incredibly haunted this piece of real estate is.
Cindy Parr and Greg Matlock Senior, from New Orleans, visited the spooky house and say they were met with all sorts of unexplained goings-on.
Speaking to the Sun, Parr said that the house quickly drained batteries (The HORROR of low batteries!) and that a door opened and closed on its own.
But the claims partner Matlock Senior makes are even more terrifying.
He told the Sun: "I turned into the room and saw this black mass standing there, it wasn't a shadow or anything like that, it was pretty wide.
"I don't think it was the older lady, I think it was something totally different, the figure was bigger and stood about 6ft.
"It started to turn and I just thought, 'Oh no' and ran out, I was done, it was unbelievable, everything just slowed down.
"It wasn't just me seeing it, it was what I felt when it was there, you could feel the power, it was bad, not a good situation to be in at all.
"We got out and I was definitely exhausted, it draws energy from you, my chest was even hurting."
The pair went on to compare the house to 'watching Amityville Horror on TV' and say they also heard 'scratches on walls' and 'growls'.
Speaking last month, McLain said: "I don't know if it's haunted, but I do know about all the rumours surrounding the house.
"I am aware there's a lot of talk about the house being haunted.
"Dawn and her brother always tell the story that their great grandmother would stir the pot while they were playing cards in the living room. So yes, there's some really cute stories about it being haunted.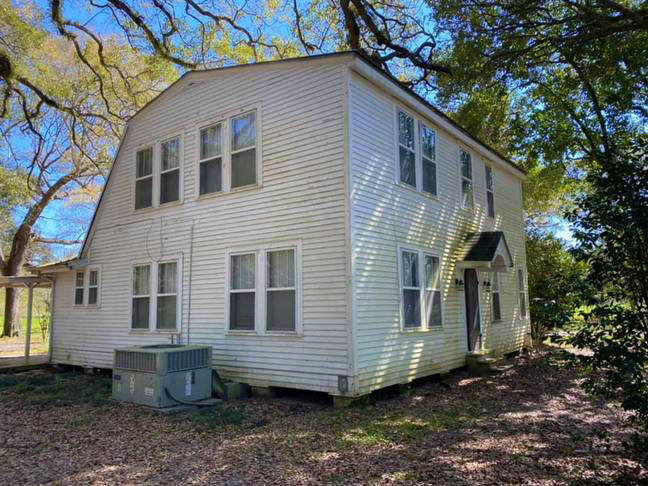 "And then the girl that lived in it who was the last tenant, everybody called her 'gypsy' because she believed in the spirits and all that stuff.
"The previous tenant even told us she had somebody come in and check for spirits."
McLain has now confirmed the property has finally been sold, and the house will be moved and reconstructed 15 to 20 miles away.
She told the Sun: "The man is in the construction business, he's going to move it himself and put it on his family land for his daughter.
"They wanted it because it was free, they couldn't care less about the history of it, they don't believe all the stories."
So after all that hype about it being haunted, in the end McLain ended up giving it to someone that didn't believe the ghost stories. I wonder what McLain plans on putting on this haunted land next? Hopefully not a new housing development sparking a "Poltergeist" movie type event!