Don't Fall Victim to Seller Bidding Wars
I believe anyone of sound mind would agree that the Palm Beach County real estate climate has escaped the boundaries of logic as of late.
During my usual round of daily phone calls, I'm entertained with fun and wild stories of people from California and New York buying 10-plus million-dollar properties sight unseen over the phone. A simple FaceTime tour can procure a 15-million-dollar sale from a buyer thousands of miles away. A house is listed on Friday, and people begin climbing over each other like those who buy out the toilet paper from Costco at the mere mention of a hurricane.
My attorney "I'll pay whatever" mentality has taken hold. It's easy enough to understand the panic driving the recent migration changes. Panic can drive all sorts of things, and that includes driving naive new investors — attracted by wild numbers — into a market.
The Current Florida Real Estate Market Is Volatile
During my usual new listing scour, I stumbled upon a 3,500-square-foot, zero-lot-line house on a quarter of an acre listed for $1,075,000 in the ever-so-hot West Delray market. I'll be watching. The only conclusion I've come to when analyzing a market like this is that I'm simply trying too hard.
Take one quick look at the stats from February and you can see how bubbly things are getting in Florida markets as a whole. The dollar volume alone is up over 48% year-over-year even though new listings are down, and inventory has become absolutely anemic at a 56% drop since 2020!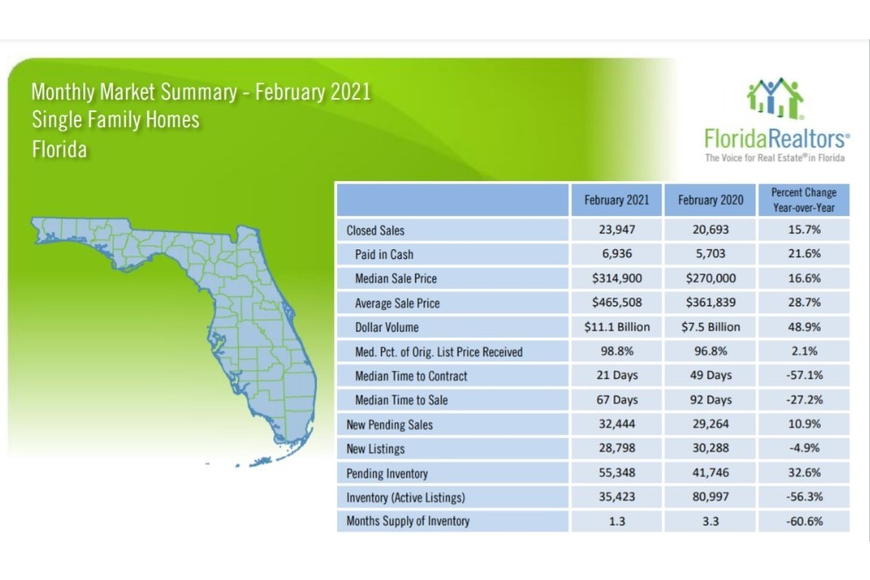 At recent social gatherings, I've been amused by the number of new residential flippers attempting to convince me that they're crushing it. "We've got two or three going at once. We plan to just clean them up and sell them for huge returns," they say.
They always neglect to mention the overpriced offer they accepted from a happily willing seller. The buyer was happy to win what was hot.
I had an agent relay via text that he had multiple cash offers above asking. Since he was having brunch, he was too busy to answer my call to discuss my potential offer. That kind of attitude will no doubt prove him to be one of the great real estate agents of our time.
This panic price driving can be seen in many arenas in life. I've been on the bench coming up on a year now, watching closely for any semblance of rationality. Many of my friends and colleagues call me crazy for not doing anything.
Florida Is the Perfect Change of Pace for Many Homeowners
In years past, Florida was always thought of as a second or retirement home state. I've even heard phrases like "Florida is for failures." I always resented that. I was excited to run from New York seven years ago to call this great state home. I haven't regretted it for a minute.
Florida is a real place for people to plant their roots and begin a new chapter for their family. From a cost-of-living perspective, savings on property taxes can make a huge difference. Your million-dollar house in Long Island can put you back $25,000 a year, while you can slash that amount in half for a property of the same dollar value in Florida.
New York income state tax rates can be as high as 8% compared to the Florida big fat zero. Parks, roads, and streets in New York cannot hold a candle to those in Palm Beach County.
New York's failing economic policies are now at the point of taxing legalized marijuana to generate much-needed revenue from a rapidly declining tax base. Maybe they hope to get the remaining tax-paying citizens high enough to believe staying makes any sense.
The virtual workplace has also opened people's minds up to the possibility of calling Florida home. Society has proved to be just as efficient outside of a physical workplace — in some cases, even more efficient.
The combination of being stuck at home, low mortgage interest rate offerings, and Governor Cuomo wanting to pop into your Thanksgiving dinner for a head count certainly turned that planted seed into real motivation. Toss some panic on a fire that was already lit and you have an atomic explosion.
Tread Carefully and Bide Your Time
Advice is something I've learned not to give to people anymore. They may hear what you are saying, but people will always do what they want to do. However, since I'm merely putting pen to paper, I don't see any harm in jotting some down for those who may take it for what it's worth.
If you were in a field staring at a tornado, would you walk you and your family right into it? Throw a ball up in the air and I promise it will come down just as fast.
Let me be clear. There is a distinction between purchasing a home for your family to grow in versus investing and flipping. Yes, your home will certainly be one of the biggest investments you will make, but I am bullish and long on Florida real estate. Especially Palm Beach County real estate.
Are prices high? They sure are, but money is also cheap. In the short term for investing purposes, the volatility could not excite me any less. The pitfalls of new construction in a time like this can produce some major unexpected economic flares in your pro forma. Since time is money, be prepared for your project have unavoidable delays.
Due to demand increases in the hot new build market right now, if you are not prepared for PGT windows to be ready in 22 weeks, custom roof trusses to be ready in 18 weeks, and difficulty in locating electric breakers, then you are in for some sour times.
I am a firm believer that you make money when you are on the buy side. If your entry position is comfortable, you can always avoid real danger. This is a seller's market, and strong entry points at this time are few and far between.
Don't let the wild numbers, party conversations, and excitement get the better of you. If you are in to invest, bidding wars only benefit the sellers. Jumping into a burning building, moving too fast, and leaving rational thought in the dust can only lead you down a path with an unpleasant outcome.
Moratoriums in the foreclosure world will be lifted this year. What was once hot will cool but not freeze. With these low rates, get your hands on as much cash as you can and sit quietly watching in the night. Patience and persistence are two virtues that will never fail you, and if you remain calm, the right deals will present themselves.