It always amazes me that investors — and it's usually the newbies — often use a scattergun approach when looking for properties to buy at the county foreclosure auction. Instead, it's best to concentrate on a territory that you are familiar with. You can brush up on your local district knowledge and really get to understand the nuances of the neighborhoods you're focusing on.
Updated 10-01-2020
This is called "real estate farming," and you should add foreclosure auction hunting to your farm. A real estate farm can be any size in any location, and you can make many of them in familiar neighborhoods. However, the secret sauce of successful real estate farming is the PropertyOnion.com map tool.
How You Can Use Our Map Tool for Real Estate Farming
The rest of this article assumes that you have watched the how-to video "Walkthrough on Move Map to Search Feature" (located in the tutorial section of the website) at least once. This video explains our practical tool, which I guarantee will make life easier and speed up your searches for suitable auction property in your area of familiarity.
Step 1: Open Your Default Map
From your home page, go to the default map view by clicking on "Search Properties" at the top of the page.
The page will open up to a map view with the entire list of your default county's properties in auction, including pictures and details on the right side of the page. Remember, the county you nominated when you created your account is your default county. To change your home county, simply go to the Profile Info page and select another county to the right of the "Home County" field shown on the page.
Step 2: Get Familiar With the Map Tool's Features
Next, go to map view and click on the gray button that reads "Move Map to Search?" located at the bottom left of the map. This will put a check mark in the white box, and you will see a list of properties in the right-hand side panel. These are the properties that are currently showing in the map view window.
Try moving the map around with the hand tool — as you do that, the properties in the right-hand panel change and show whatever is in the map window. Is that cool or what?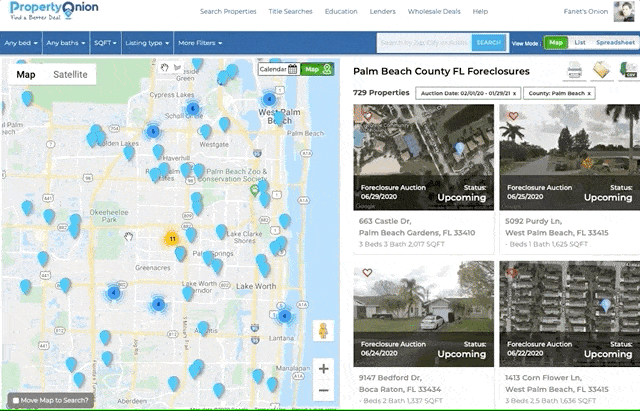 Our Move Map to Search Feature – Click for video tutorial
It's time to get really jiggy. At the top of the map screen, you will see a hand and chevron icon side by side. Click on the chevron and the curser will turn into a plus sign.
At this point, you can choose to view the map in satellite mode or traditional map mode by clicking on the small white panel at the top of the map. For what it's worth, my preference is the traditional map view.
You will then be able to manipulate the map in all directions and zoom in using the wheel on your mouse or the plus and minus buttons on the bottom right of the map.
Step 3: Set Up Your Farm Area
Now the fun begins! Select an area that you're familiar with and zoom in.
In the map window, you will see blue, red, and green map pins that denote properties coming up for sale, properties that have cancelled the sale, and properties that have sold, respectively.
Draw a polygon shape on the map by clicking the left mouse button and dragging it to another point. You will see a thick black line; click and move on to the second point, then the third point, and so on until you have completed the shape.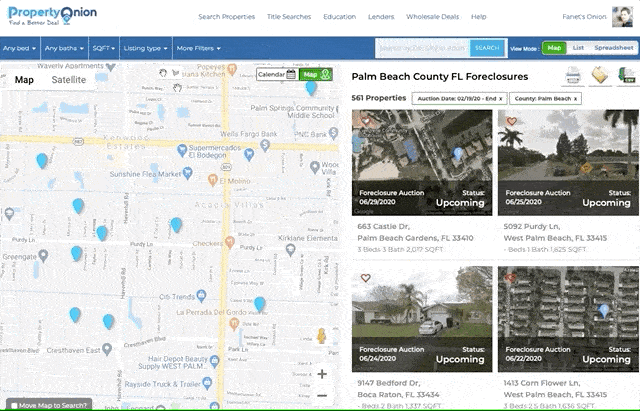 Our Draw On Map Tool – Click for instructional video
The area you have created will gray out and place all the properties within it on the right-hand panel. Additionally, you can double-click any of the pins inside the shaded area of your polygon to get the complete details of the property.
Step 4: Narrow Down the Property Listings
Now that you have set up your farm, it's time to filter down to your preferred property types.
Simply go to the blue bar above the map and put in your preferences, such as the number of beds and baths, square footage, and listing type (e.g., single-family home, condo, etc.).
You also have the option to drill down further by clicking on the "More Filters" tab and refining your search.
Once this step is completed, some of the map pins will disappear because they did not match your criteria. In some cases all of the pins will disappear, but don't worry; this happens because not one of the properties in the shaded area of your drawn shape matches your preferences. However, tomorrow, next week, or a month further down the line, a property or properties may become available at auction or by a wholesaler who posted a deal to the wholesaler section of PropertyOnion.com. When a property is added, you will be notified immediately.
Step 5: Save Your Search
It's time to save this map drawing as a search. Go to the panel above the property details section, click on the file icon, and fill out the simple form that pops up.
Give the search a name like "My Real Estate Farm" or whatever you like. By providing your email address or cell number, you will be notified every time a new property matching your property preferences becomes available in your drawn area. Now come on — that's cool, isn't it?
Refine Your Real Estate Farming Strategy for Optimal Success
Here's a tip I learned from a PropertyOnion.com member at one of our Meetups. They use the real estate farming method in a slightly different but extremely effective way. Everyone has a favorite road or street that they would like to buy on, but way before PropertyOnion.com's existence, you had to keep revisiting the county website lists to see if one of your coveted street properties was coming to auction.
The process is much simpler with our tool. By simply drawing a thin oblong polygon along the street of your choice and saving it as a search, you will always be notified when one of your preferred properties is coming to auction.
In October 2019, David Willard, a longtime PropertyOnion.com member, snagged three properties in Hialeah, Biscayne Park, and Miami Shores at the Miami-Dade county foreclosure auction by using the street method. He told me that he originally had six, but two got cancelled and one went for more money than he was prepared to pay. The three remaining were "sweet deals."
Because he knew these roads and the surrounding areas intimately and had local knowledge of what the after repair value (ARV) would be, David had a distinct advantage and the confidence to bid a lot higher than anyone else.
David now works this farming method exclusively because he can drill down exactly on his sweet spot using the filters. He explained that a three-bedroom, two-bathroom property at 2,000 square feet or above on one of the roads he likes will move immediately once the rehab is completed for good money. A similar property 600 feet further up and across the intersection is, in his words, "a graveyard."
Here is how I work my real estate farm these days.
I have several districts in Palm Beach County and Broward that I am very familiar with. Properties regularly appear at auction in these areas, likely due to the socioeconomic dynamics of the neighborhoods. However, there are some roads that I don't like and others that are really good because they are close to popular amenities. By using the street drawing method, I've saved over twelve of my ideal locations, and I am always notified when a property becomes available.
I now have better control of the eventual outcome because I possess the local knowledge that my competitors may not. When bidding at auction, we all know it's about confidence and having the comfort of knowing what others don't. That's what gets you the property!
PropertyOnion.com's Map Tool Is Your Key to Profiting from Real Estate Farming
This method can completely reshape your real estate farming strategy. I was a little skeptical at first, but I reckon this method has found me at least three properties in the last eight months that I would not have discovered otherwise.
Real estate farming is a tried-and-true method for succeeding in real estate. Make sure you add county foreclosure auctions to your real estate farm now with our help!
Let me know how you got on by leaving a comment in the comment box below.