While taking a stroll through your neighborhood, you notice that a previously occupied home looks vacant. The windows are dark, the once well-manicured lawn is overgrown, and notices from the county are piled up on the porch. Knocking on the door yields nothing but silence.
It is clear from the notices that the home is distressed, and you are sure that the owners would rather sell to you than undergo the foreclosure process. But how can you get in touch with them to offer them the opportunity? Skip tracing.
What Is Skip Tracing?
Skip tracing is an effective way to locate a person's contact information; it involves searching through public records and databases. Skip tracing is a valuable tool for investors because it puts them in contact with owners who may be motivated to sell their distressed properties.
In the height of a seller's market, it is more important than ever to utilize all strategies and resources for finding the best possible deals. When you have found a prospective investment, whether online or in person, it is important to have all the information you need to move forward.
Spotting vacant properties around town is not the only reason an investor might choose to utilize a skip trace. When browsing sites like PropertyOnion.com, you may see a property that is upcoming for auction. You would like to get in touch with the owner directly, perhaps to discuss their circumstances and see if there is a way you could mutually benefit.
Maybe the foreclosure auction is not necessary, and you could arrange for a short sale or loan modification or even assumption with their lender. Depending on the equity in the home, perhaps you could offer them an amount that would both satisfy the mortgage and get them set up elsewhere.
It is also possible the owners are not aware that they are in fact the owners because of misunderstandings regarding the foreclosure process or their inheritance of the estate. There are literally hundreds of possibilities with various outcomes, but you will not be able to explore any of them without the owner's contact information.
How to Find Skip Tracing Services
Fortunately, PropertyOnion.com now has a skip trace feature that will allow you to access the ownership information and much more.
The skip traces on PropertyOnion.com Include all the information you need to contact distressed homeowners to negotiate a deal. Most reports will include multiple phone numbers, email addresses and multiple associates & relatives.
Our skip trace reports are comprehensive, inexpensive and very simple to order and read.
View an in depth PDF or create a custom CSV download with the skip trace data.
The skip traces on PropertyOnion.com are instant and will provide you with the following information.
Recent phone numbers that you can upload to your dialer program in bulk or assign to your cold calling service to be contacted for you.
Recent email addresses that can be added to your marketing campaigns and sent out in mass. You can utilize programs that allow you to add these emails into a drip feed campaign and send them out on your schedule and in the exact order you want. Set up the series of emails that you want to be distributed and then keep providing the email addresses that you acquire through skip tracing to have a constant flow of opportunity.
Recent mailing address: In addition to using cold calls and emails, it is also effective to send out postcards via snail mail. The tangible card that the potential seller must physically pick up and observe can be a powerful marketing tool.
Contact information for family members and known associates: When you have been unable to get in contact with the homeowner, perhaps their family has a way to get in touch with them. They may have the phone number they could be reached at or know where they are staying. They may also be able to answer questions about the condition of the home and the circumstances surrounding the foreclosure.
Divorce cases: Before you begin your marketing process, this information could alert you to potential complications if there are other parties with an interest in the property. If the property is one that you want to pursue, having this information in advance may give you an edge and a better idea of what strategy to use.
Ages: Knowing the age of the current owner may be a clue to the reason for their departure and how you may be able to offer them a win-win solution.
Death information: If the homeowner is deceased, now you know to shift your focus to family members who may be interested in selling the property to you and brush up on your knowledge of probate issues.
Litigation records: Knowing the details of the foreclosure lawsuit and any other available court records will give you a powerful advantage.
Having access to this information on distressed properties opens new opportunities for the investor. Now, instead of having to wait for the auction and bid along with a myriad of other eager bidders who have been watching this same property, you can make some educated decisions on what your next move will be.
Negotiate a Sale Before the Property Goes to Auction
Not every foreclosure case is someone losing their home under protest. Often the amount owed on the home exceeds its value and the owner can't sell it.
The mortgage on the home and the home itself with taxes, insurance, and maintenance costs can become such a burden to the homeowner that they have mentally checked out of the foreclosure process and are willing to sit back and let come what may.
In these cases, the homeowner may not be aware of all their options. A short sale is when the lender agrees to accept less than the payoff amount. The lender may forgive the deficiency or request that it be paid by the owner after the short sell. It is usually required that the home be significantly behind in payment and the market must be such that the house has dropped in value.
In general, a short sale may be less costly for the lender than initiating a foreclosure process and can be less damaging to the seller. As an investor, if you can identify a homeowner who could benefit from this arrangement, it could be a win-win situation.
Whether you are an agent who wants to list the home or an investor who wants to wholesale or BRRRR (Buy, Rehab, Rent, Refinance, Repeat), short sales can provide an amazing opportunity for profit.
Uncover Potential Encumbrances
Perhaps a condominium at an upcoming foreclosure auction has caught your eye and you have done your due diligence by ordering a title report. You can see the full list of what liens are currently encumbering the property and how much they were originally for.
The payoff amounts are a different matter. The amounts remaining on any of the mortgages or other loans are considered private banking information and will not be disclosed to you by the lender. If you want to buy the property, you need to know not just what encumbrances there are, but how much it will cost to make them go away.
Only the owner can provide you with this information and, hopefully in the process, sell you the property.
Find Out Key Property Details
The properties that are awaiting auction are still under the ownership of the defendant. Buying the property directly may give you the advantage of knowing the current situation of the home that you would not have bidding at the auction. The owner may still be living there or may have tenants happily renting who aren't aware of the situation.
If you hope to buy a home and move right in, you may be taking a gamble. Even if you aim to rent out the home, you still want to know what to expect. Are they good tenants? Do they pay rent on time? You may find that you have cash flow already in place.
Conversely, you may have a ticking time bomb. Preparation is key, and the ability to speak to the owner and find out who is there and what their circumstances are is an advantage you will want to utilize. The owner will also know the condition of the property. Knowing what repairs will be needed will help you decide on your maximum bid.
If your maximum bid for a property was originally $150,000 but you speak to the owner and find out the home will require $20,000 in repairs, you will be glad you had that information before the date of the auction! Buying properties sight unseen is a risk, but with skip tracing it can be a calculated risk.
PropertyOnion.com Skip Traces
There are three ways you can order skip traces for as low as $0.29 on PropertyOnion.com: one at a time, in bulk from the spreadsheet view, or you can upload the list of skip traces you want in our bulk skip trace tool.
Ordering a Single Skip Trace on a Property
To order a skip trace on a single property, simply go to the property information page of the property you are interested in. Under the first column, titled Property Characteristics Summary, scroll down to the owner's name. If there is a skip trace available for this property, you will see a blue rectangle labeled Skip Trace.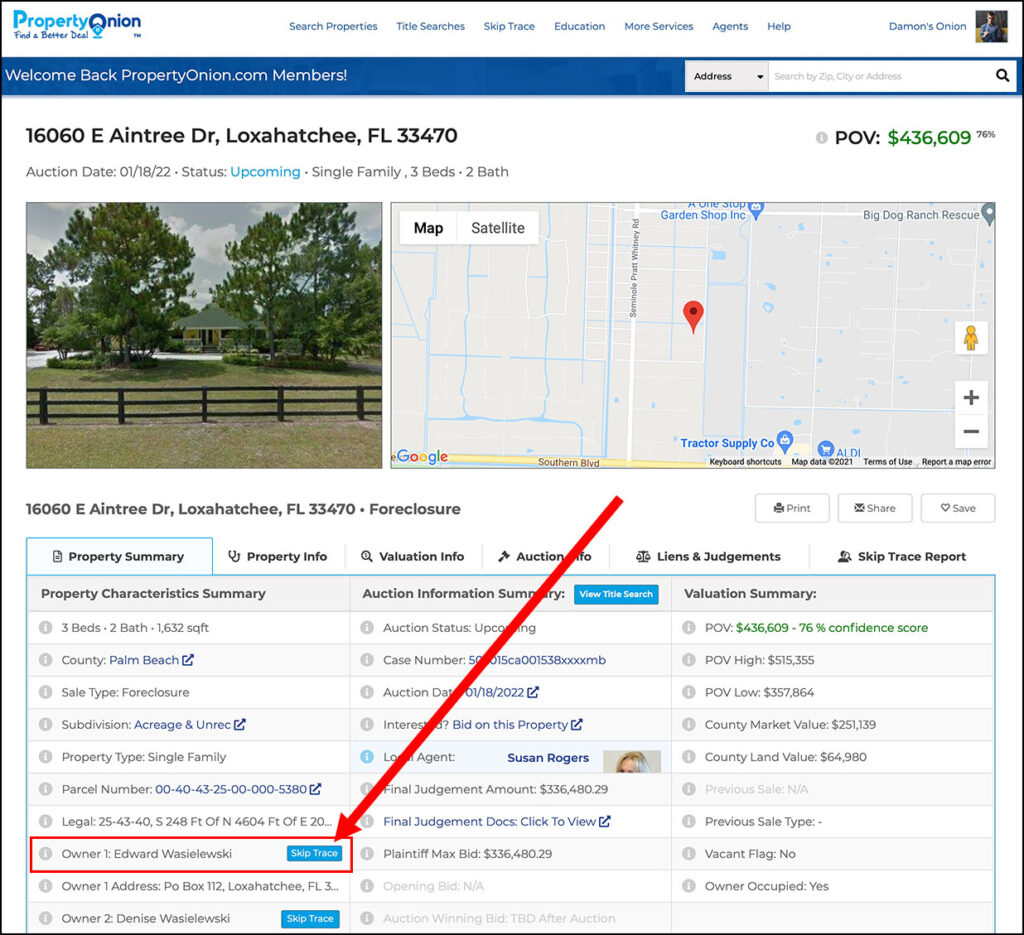 If you click on it, it will pull up the report with the details blurred out. Click on the new blue rectangle that appears with the label View Skip Trace. It will prompt you to order skip traces. You can order them one by one or, if you are a Premium member, you can buy them in packs.
A Starter Pack contains 10 skip trace credits for $9.99, a Marketing Pack contains 100 skip trace credits for $49.97, and a Bulk Pack contains 350 skip traces for $99.75.
Ordering Multiple Skip Trace Reports from Spreadsheet View
The easiest way to order multiple skip trace reports on any and all properties listed on the foreclosure auctions is through our search tool's "spreadsheet view."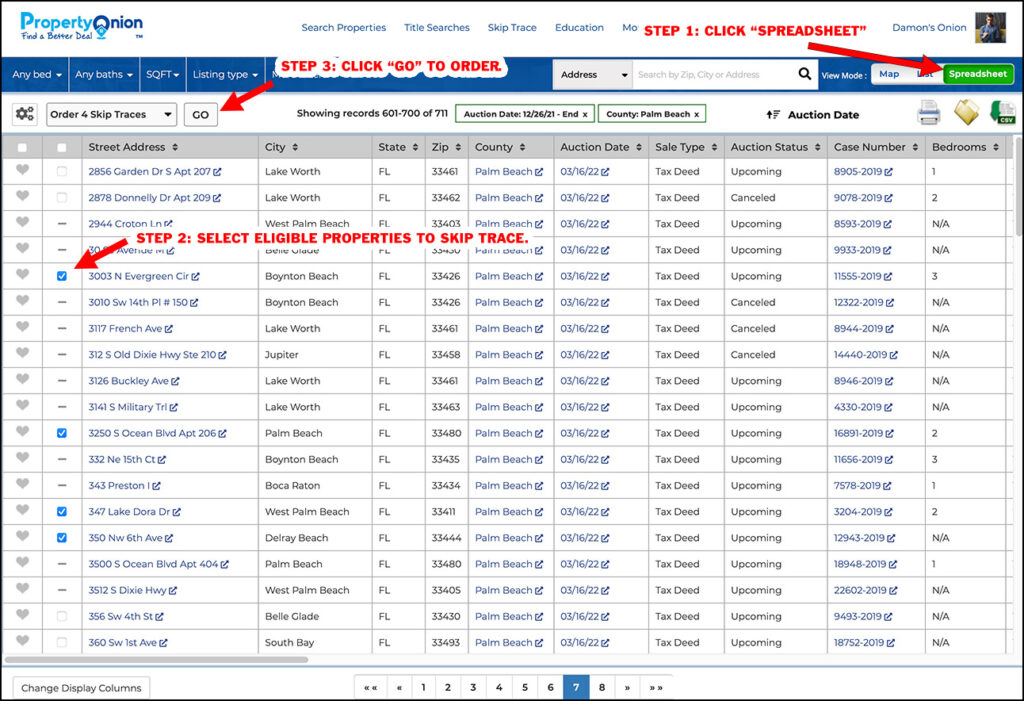 If you go to the search page spreadsheet view, you will see a column that allows you to select most properties. This is the action column, and above the column there's a button in the upper left that says "Order Skip Trace." This allows you to order skip traces on every property owner listed on the page.
Order in Bulk from the Skip Trace Dashboard Bulk Tool
If you go to your Skip Trace Dashboard, you will see the skip traces you have ordered. In the upper right corner, you can click on Bulk Skip Trace Tools. This allows you to enter multiple addresses for skip tracing. You can upload a CSV file or copy and paste the addresses.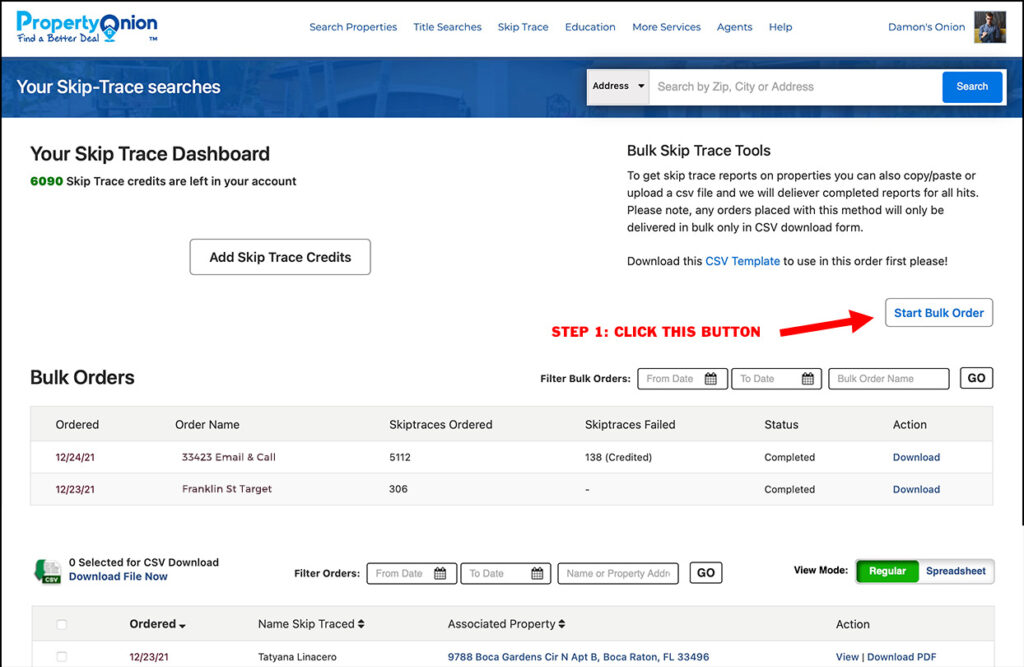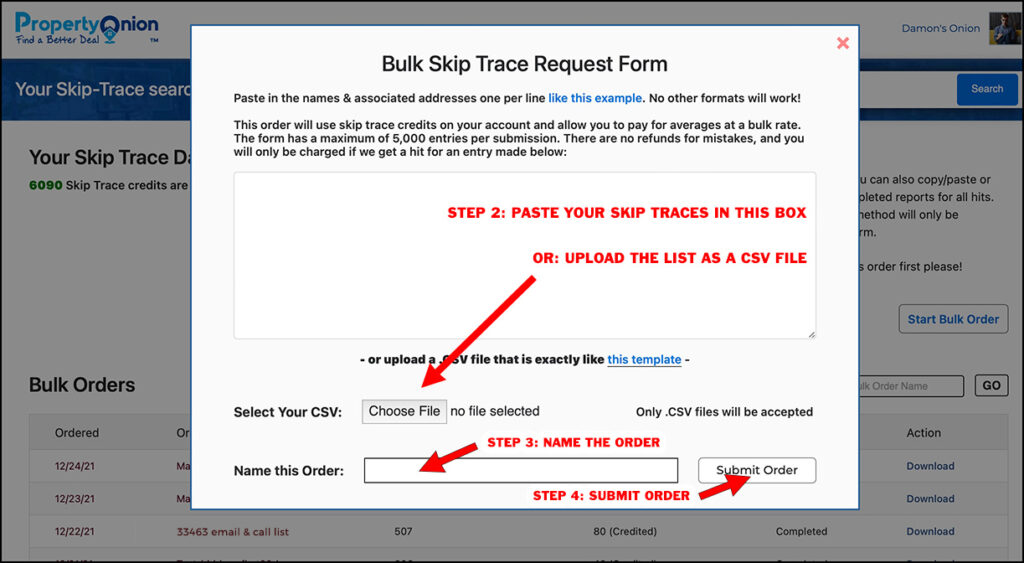 Up to 5,000 skip traces can be done at a time using this method. The credits will be deducted from your account, but only if a hit is found. The results are delivered in bulk on a CSV file.
Start Skip Tracing Today
Skip tracing is an asset for any investor who wants to find motivated sellers. Just as importantly, you can use skip tracing to locate homeowners who are hard to find and no longer willingly involved in the property. Other investors will be sending multitudes of colorful postcards with their phone number, imploring the "down on their luck" homeowners to take the first step and call to work out a deal.
However, if the homeowner has moved on from the property and is no longer there, all your colorful postcards will likely join ranks with the piles of foreclosure notices, eviction notices, old newspapers, and letters from the city complaining about the unkempt lawn. With skip tracing, you have the advantage of tracking down that homeowner, contacting them directly, and finding out what you can do to improve their situation and grow your business.