The Monthly Peel
Interesting stories, tips & tricks for real estate investors.

6 Ways to Money in Real Estate With No Money
Each year thousands realize that there is no better way to build wealth than with real estate investing. A large portion of this batch of new believers never gets started in real estate because they have little to no money to invest. They simply do not know how to invest without using a significant portion of their money. In this tutorial, we will touch on 6 ways to make money in Real Estate with no money, or at least very little money for most.
Foreclosure Scam Sends Fannie Mae Employee to Jail
A former Fannie Mae employee got caught taking bribes to the tune of millions and is now sentenced to 6 years in jail. Fannie Mae employee Shirene Hernandez worked at the Fannie's Irvine office as an REO foreclosure specialist. She was in charge of putting these properties back into the market so the government and the tax payers can recoup some of the money lost on the bad loans. She messed with the Real Estate Gods and now justice has been served, read how brazen and greedy this woman was! read more
The Rise of the iBuyers And Their Impact
If you're an active real estate investor trend follower, you're probably well aware of a relatively new phenomenon in the industry – the iBuyer. If you're thinking that this is just a fad, and that it's never going to catch on, the numbers say otherwise. How will the coming tidal wave of iBuyers impact local investors & wholesalers & perhaps you? Read our analysis and see what you should do before the robots take over your market!
Run, Don't Walk To Your Real Estate Investor Meeting
As an investor it is critical to build your network of resources. How else are you going to grow your portfolio? Where can you find local, trustworthy people that can potentially make you a big success? There is no better way of doing so than going to your local REIA meetings or Investor meetups. Many successful real estate investors got their start or built their network going to these meetings. Many of the most successful investors goto these meetings regularly and you can pick their brains, get nuggets of their secret technique or even ask them to mentor you. It's a no brainer, go to a meeting this month for these important reasons.
What is Zillow Offers Anyways?
Zillow Offers is the latest arm of the wildly popular real estate brand Zillow.com. Zillow Offers is the latest attempt by Zillow.com to monetize their traffic as leaders of real estate web traffic. Currently Zillow.com is estimated to have 36,000,000 visitors per month which is about 3x the traffic of their next competitor! So what happens when a Real Estate monster starts offering to buy everyones property through their website? How do it affect Real Estate Investors, Wholesalers and Real Estate Agents? It can have a serious impact, read more about Zillow Offers and why you should care.
$1.00 Gets you a Luxury Condo in Palm Beach these Days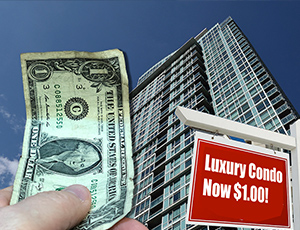 If you've ever dreamed of owning your very own condo in Palm Beach County, you may be shocked to discover that your dream can be realized for less than the price of a coffee! It's true. While the average sale price of Palm Beach condos is around $600,000 this is quite the steal!

Use this one Weird trick and you can get one of these high end digs for just a buck!
---

So happy you read our email, how'd you like it?

If there's anything you liked or didn't like about this email, please leave comments below and let us know! We would love to get some ideas of what you might be interested in reading about in our next issue. If we pick your topic we will give you a $25 Amazon.com gift card as a thank you for the idea!

Sincerely,
-Rooty
Official PropertyOnion.com Mascot